So this weekend has been a blast! Friday was Stacy's last day with the company, which is a sad sad thing, but we had a hell of a party at Bar Louie to mark the occasion. Ridiculous amounts of liquor were imbibed by everyone -- I think the bar could have catered to our group exclusively and had a great night. I was trashed on a lovely wine, and the pictures were exceptional.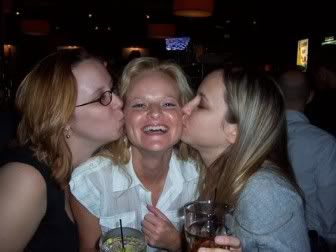 This is me, Stacy, and Other April at the bar.
A wonderful time was had by all, and I found out that I know the bar manager! He's a friend of mine from high school, and I dated his best friend in high school. We caught up; it was fantastic to see him. You know how sometimes you run into people from school and you don't really know what to say to them? This didn't really turn out that way, and we weren't really that close in high school. You know, I did date his best friend in high school ... But it was really pretty neat.
The next morning Other April came to pick me up and take me back to my car (Christen drove me home; I was too intoxicated to do so) and it was a unanimous decision that we skip yoga this week. So the Brother and I went to the Antiquarian Book Fair in St. Pete. So Fun! So many books! The only problem with it was that, as they were all antique book dealers (115 venders) everything was highly overpriced. There were a few books I wanted but I didn't get, and Ian drooled over the copy of
Fahrenheit 451
illustrated by Ralph Steadman. Alas, I did not have a grand to part with to get it for him, and if I couldn't pay the $800 for the
Tender is the Night
first edition, well then. He's just going to have to deal. The most expensive book we saw was $6500 for a first edition of
The Martian Chronicles
by Ray Bradbury.
There were purchases made, though. I came away with a autographed copy of Pat Conroy's
Beach Music
, and a copy of
Drink: A Social History of America
, which, in light of Friday night's bash I thought was appropriate. I also appropriated a well-spent $3 on
Letters from a Nut
by Ted Nancy for a bit of fun. The Brother picked up a copy of an autographed Orsen Scott Card novel.
Saturday night we went to the State Theatre to see The Spill Canvas, The Plain White T's, OkGo, and Motion City Soundtrack. I do have to say that I think I'm getting too old for such crowds. The average age was around 16. The show was pretty good; I went for OkGo and the Brother for they and MCS. I liked Spill Canvas best when it was just the lead singer; the drummer was out for a wedding and he sang a few songs acoustically by himself and I thought it was great; then he was joined by his band and it drowned him out.
Today has been a lazy day. I brushed the dog and watched
Midnight in the Garden of Good and Evil
. I have the book, and I thought they did well with the interpretation. It was pretty good. One of these days I'm going to have to get up and get dressed, but I may laze for a little longer. This weekend has gone by so quickly! Toodles!