I started this post earlier today saying that it though it's been a wretched rainy week, it hadn't rained today.

Yeah, well it did. And not that "sheets of rain curl up with a good book" rain, or the "sweet shower on a sunny afternoon" rain, but the "harder than a drizzle so you don't want to go out but not hard enough to relish snuggling under the covers" rain. Wretched. Fortunately, I had already worked, gotten off work, gone to lunch with Christen (a cheeseburger at Alehouse), gone to DSW and bought two pairs of adorable shoes to go with my new crop pants...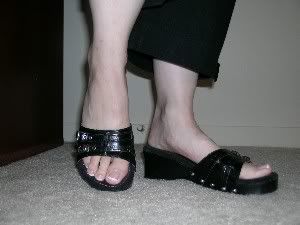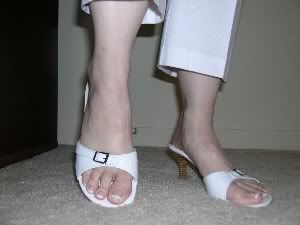 ... and two necklaces from Target, returned my library books (that place is never going under with the amount of fines I pay them), got some from my list (updated "muddlin' through") and came home. So I had a full day. I think it helped that I had to be at work at 5 a.m., so everything happened earlier than usual (and for that it helped that I took a couple 5-minute power naps in copy center).

Speaking of shoes, there's a pair that I really want (this is the real reason why I keep going back to DSW) but they haven't had them. Alli bought them last month, but at my DSW they have them in white, pink and brown but I need them in black -- I have to have them in black. To refres everyone's memory (and Alli's too), these are the shoes:

... and if anyone can get them for me, I'll send you money for them and shipping! please!!!!