So I'm back from vacation. I'm not sure if I'm thrilled about that or not; I had a fabulous time and wish I could be gone forever, but you know. Things to do; people to see. I'm leaving early for work to see if I can figure out where I am in terms of work -- there's always a million things to do there, so I'm sure I'm up 5 million in the hole to catch up on. And I missed my family. I'm going tonight to go visit them.
But vacation was so great! Saturday we drove all day and got to North Carolina around 5pm; we stayed at Jones Lake State Park and relished not having to be home. It was very pretty. The next day we drove to Prince William State Park in Virginia which is about 30 minutes outside of DC but in a whole other world -- you drive 5 miles into the forest to get to the campground. We saw beautiful deer out there - they don't even run up there! They just look at you and you look at them and they go back to nosing about in the woods.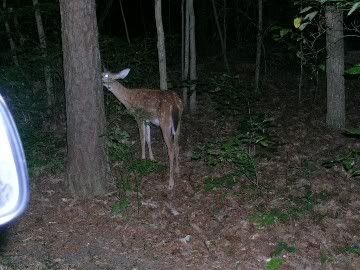 We drove around DC at night Sunday night but we got stuck on some parkway and ended up outside of the city and just decided to go back to the campground. Monday we walked all around the city and saw as many monuments and museums as possible -- we went to the Museum of Natural History and the Museum of American History. They were awesome (and they were free! Who'da thunk it?!). I wanted desperately to see the Library of Congress but it was closed. I don't think I'd be allowed in based on my obsession with books; I don't have a congressional pass.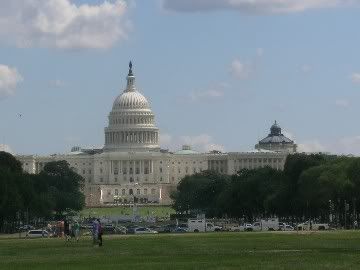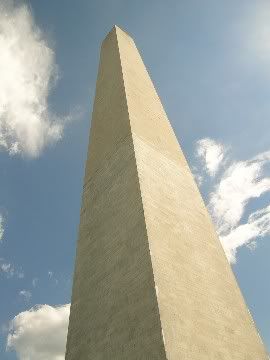 The second day around DC we were on our way out but we went to Arlington Cemetary. I have relatives there but you evidently have to know the year they died and their full name, and I just know I wasn't born yet. So I couldn't find them. I took a picture of a bunch of headstones and my mom can just pretend one of them is Mike. Arlington was very beautiful, and we were there the day before Renquist was buried.
After that we drove down the west side of Virginia and stayed at a little park called Claytor Lake and then continued on to Tennessee. In Tennessee we went to Fall Creek Falls State Park, and it was gorgeous! We stayed in a walk-in campsite so we weren't all around the RVs and hiked to see a gorge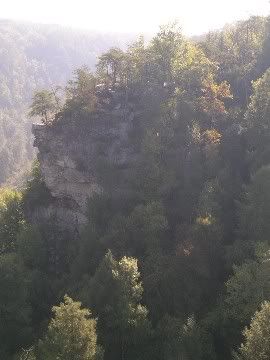 and a waterfall (the highest waterfall east of the Rockys).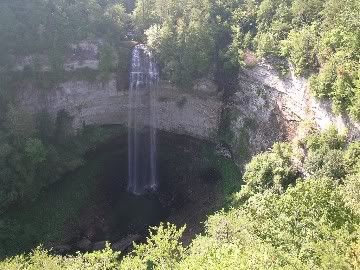 There was another hike to another waterfall, but it was across a suspension bridge to a 12-mile loop,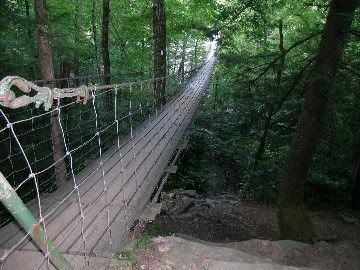 and we decided we just weren't up to that sort of activity that late in the day. We saw a lot more deer in Tennessee, and of course I took pictures. Did I mention I take pictures of everything? We had a raccoon nosing around our campsite one night and woke up to pawprints all over everything, and what did I do? I took a picture.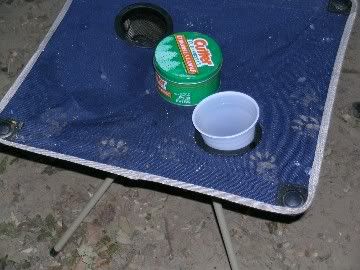 After 2 nights in Tennessee we went to Jackrabbit Mountain in North Carolina. It's right on the border of NC and Georgia, and if you stay on the other side of the mountain you're in Georgia. We took a 2-mile hike on the mountain and then settled in to watch the sunset from our campsite.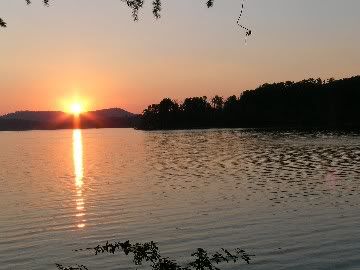 Our last night we stayed in a park in Georgia, and it was hot and mosquito-ridden, and the campsites didn't have much shelter from the other campsites (hey, reminds us of home!). But we listened to the Ga/SC football game on the radio (as the only two people in Georgia rooting for the Gamecocks) and went to bed early to escape the mosquitos that are entirely immune to Deet. Sunday we came back home and decided to go out to eat for dinner since we had nothing in the house (I made sure of that before we left) and found a great Chinese place not far from home. We've been looking for a good Chinese place on this side of the Bay, and I think we've finally found one.
And thus endeth "What I did on my Autumn vacation". Thank you, and good night. :)