the funniest thing that happened this weekend: we're walking on a nature trail and an older couple is walking the opposite way. i pull christen behind me so we're single file so they can get through, but instead of continuing on, the guy stops christen. "you must be the geek," he says. i start giggling, and christen has no idea what the old dude is talking about. i was wearing my green "i heart geeks!" shirt with a picture of millhouse in the middle. hehe. i was amused. christen was less than amused, but that's okay. i'm the only one who can really make him goofy. i think he's too serious with everyone else.

but camping was marvelous; friday was freezing and i couldn't sleep because i couldn't feel my hands. saturday was beautiful albeit a little chilly, and we went on a tour of the town, whose major intrigue was a superwalmart. we had forgotten that we threw the tent stakes away last trip to south carolina, so the first night was also a little "shaky," as we hoped that the tent wouldn't blow over on us while we slept. we went on nature trails and took a three-hour nap and slept fabulously saturday night when the temperature was about 15 degrees higher. we had no water, no electricity, and no showers for three days. so much fun! (of course, the first thing done on sunday when we got home was take a shower and do laundry. so much for the land of the living.)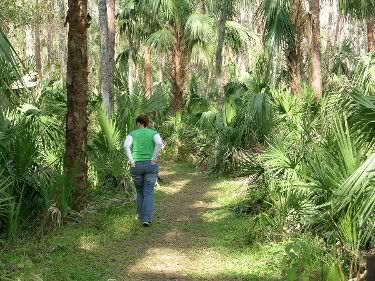 this was the only picture taken this weekend. christen took it of me on one of the nature trails.