just so you all know, i'm horrible. when i got home monday night christen had made me dinner (chicken with sundried tomatoes and some sort of parmasian-y pasta) and this:
(photobucket is having its 5-minute emergency maintenance so i'll post in a few)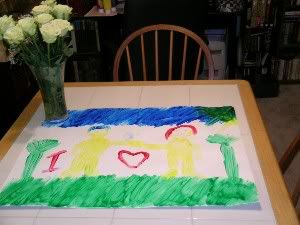 he made an adorable card with fingerpaint and posterboard. and gave me yellow roses. i'm the one on the right with the red hair. he said he couldn't make black hair with the fingerpaints.

i love this man.